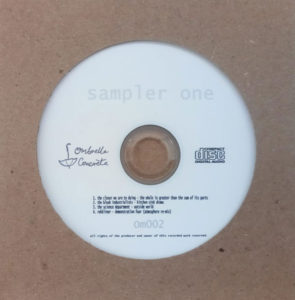 Ombrelle Concrète sampler one
Ombrelle Concrète sampler one is the first in a series of sampler releases illustrating the scope of the organisation's ambition and creativity.
From a spectrum that already covers dark ambient and drone to neo-classical, synth pop, space rock and beyond come four exclusive tracks from the closer we are to dying, The Bleak Industrialists, The Science Department & Rekkliner.
the closer we are to dying is primarily a creative project for Terry Lane to process emotionally driven, thought-provoking and intense music and visuals.  The music falls somewhere between the cracks of drifting, angelic hypnotic ambience and darkly unhinged forces cutting through with intimidating and nightmarish tales of horror.
Clive Smedley has been creating thematic electronic music for several decades – from the early days of sound-on-sound with two tape machines and a couple of microphones, to four track tape and then digital. Working as The Bleak Industrialists since 2017, he is now creating pieces with a re-discovered freedom and clarity. Visiting Jazz, Classical and contemporary, horizons are wide and limits not found.
The Science Department are Gary Robertson and Mike Thurston. Two childhood friends who many years later decided to make some music that reminded them of the kind of stuff they listened to at school… Mute & Some Bizarre Records, early OMD, Gary Numan, John Foxx etc. They released their self-titled debut album in 2018. 'Outside World' is the first release from the 2019 sessions. A more muscular sound aimed a little more at the dancefloor. An EP is scheduled for release, later this year.
Formed in 2018 to "test music" Rekkliner eschew the cliché of the singer/songwriter centred group. Drawing parallels as varied as Camel and Caravan to Mogwai and Public Service Broadcasting, they sail a course with no captain and arrive in their own good time. A glorious outlet for five musicians unconstrained by popular convention.
Rekkliner are Daniel Betts – Drums, Anton Howarth – Guitar, Rob Herrin – Bass, Joe Creek – Guitar, Clive Smedley – Keyboards.
Ombrelle Concrète – sampler one
Tracklist:
the closer we are to dying – The Whole Is Greater Than The Sum Of Its Parts
The Bleak Industrialists – Kitchen Sink Drama
The Science Department – Outside World
Rekkliner – Demonstration 2 [Atmosphere Remix]