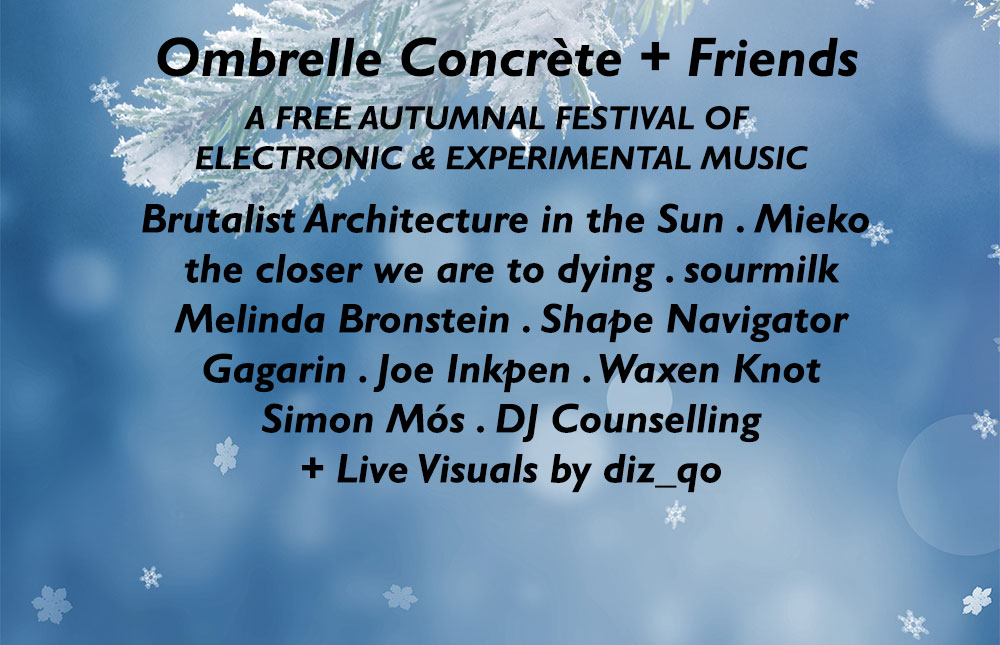 Ombrelle Concrète has been asked to curate a one-day Free Festival of Electronic & Experimental Music
Ombrelle Concrète + Friends Fourth Portal Takeover is to celebrate, support & raise awareness for the great work Fourth Portal is doing for the local community and arts across Kent.
Live music and visuals from 2pm until 10.30pm
Saturday 7th October
@ St Andrews Church, 19 Royal Pier Rd, Gravesend DA12 2BD, UK
Live music from:
Brutalist Architecture in the Sun
Brutalist Architecture in the Sun are a Medway electro act with a powerful melancholic sound. Their concrete pop™ is a mix of that 79-82 synth sound, industrial pop and a sprinkle of 90's dance.
https://brutalistarchitectureinthesun.bandcamp.com/
Mieko
Mieko Shimizu is a London based Japanese singer, songwriter, composer and producer. Her music occupies a deep reflective state in the cavernous depth of beautiful symphonic songs that oscillate with glitchy electronica. Her songs are both beautiful in their sincerity and tantalising in their simplicity. Her unerring elegance and undying passion takes you on a journey from hidden places across emotional landscapes to distant nebulae.
In her live shows, Mieko combines Moog synthesiser, keyboards, FX pedals and vocals to create a luscious, ethereal experience.
https://soundcloud.com/micouk/soho-morphosis-final-mix
the closer we are to dying
the closer we are to dying is a creative project for Terry Lane to explore landscapes of neo-classical drones, hypnogogic soundscapes, dark ambient and lost horror soundtracks, the music is as meditative and relaxing, as it is unsettling and disturbing.
https://thecloserwearetodying.bandcamp.com/
sourmilk
As sourmilk, Andrew Kesbey scuplts expressions of urban tension using a combination of field recordings and electronic brutalism. In live performance he coaxes gentle rhythmic catharsis from a modular synthesiser – all performances are improvised, unique and will never be repeated.
https://sourmilk1.bandcamp.com/
Melinda Bronstein
Melinda constructs beautiful wonky atmospheres through live vocal drone loops, casiotone, noises and toyses, and found objects. Evoking magic from the everyday.
https://melindabronstein.bandcamp.com/
Shape Navigator
Peter Coyte aka Shape Navigator released experimental electronic ambient dub music on the influential Guerilla Records in the 1990s and has worked with the likes of Coldcut, Seal, David McAlmont and Heartless Crew. He was also in the duo SaltPeter with poet/writer Salena Godden.
https://soundcloud.com/peter-coyte/
Gagarin
Gagarin is the solo electronic incarnation of Graham "Dids" Dowdall – a prolific musician operating at the outer edges of music for over 30 years. He was a member of Manchester cult band Ludus before playing with Nico through the 1980s. He is currently a member of Pere Ubu and Roshi ft. Pars Radio. Gagarin makes electronica which doesn't adhere to any particular scene or genre.
https://gagarin.bandcamp.com/
Joe Inkpen
Joe Inkpen is a composer and guitarist specialising in polytemporal music – performing solo guitar and polytemporally automated electronics.
https://joeinkpen.bandcamp.com/
Waxen Knot
From the still glowing embers of Hand of Stabs rise Waxen Knot. A volatile collective of musicians orbiting the core of Standish and Von Bergdorff, Waxen Knot embrace complete improvisation in unconventional spaces.
Each performance is a tense interplay between the performers resulting in a form of archaesonic dowsing, an interaction with place that is unique each time – and, on the occasion of their last performance a tribute to Gustav Metzger, instigator of Auto Destructive Art. Their improvised sound pieces, which can be simultaneously uplifting, difficult and intense are executed using both traditional and home-built instruments.
"Feral Kentish sound sculptors" – Pete Wiggs & James Papademetrie, The Séance.
https://www.youtube.com/watch?v=t–EIREerAw
Simon Mós
Simon Mós is an electronic artist and musician from South London, UK, predominantly making music with modular synthesis. Growing up immersed in the UK drum and bass / electronic scene, later drifting into the more experimental side of house and techno. Simon (real name Simon Arnold) produced music as one half of 'The Burbs' with brother Ashley Arnold (DJ Counselling) releasing on labels such as Hospital Records and later forming the live outfit 'All The People'.
His recent solo work as Simon Mós caught the attention of Solomun and his Diynamic label in 2021 and he has since emerged with his own label SAOK O4 (small acts of kindness) and a live set based around the Modular synthesiser. A synth builder and classically trained music teacher, his main mission has always been to experience a more fulfilling and authentic life in music, exploring and seeking to discover something new, unknown and exciting.
https://simonmos.bandcamp.com/album/it-will-be-ok-in-a-minute
DJ Counselling
Ash Arnold has been making music under various identities in a variety of musical genres for the past 20 years. More recently he is using the DJ Counselling moniker. Cool Air was named as one of Spotify's 'Best Electronic Songs of 2021. This event sees him finally unveiling DJ Counselling as a live performance.
In his own words "I'm always searching for a certain feeling when creating music, the feeling I got before knowing about music production, when I used to tape radio shows in the 90s and listen back on my walkman in the park the next day, when I thought the sounds came from space."
https://djcounselling.bandcamp.com/
Live visuals from:
diz_qo
For the past few decades, diz_qo has been creating kinetic art, projection installation, digital art and sound design, while experimenting with tape/slide, 16mm film & video art.
As a member of the Colosseum Project / Luna Nera art collective, he created site-specific events, primarily using abandoned buildings. More recently diz_qo has been working in both analogue and digital creating video installations and live visual shows.
diz_qo is the point on a graph where x & y meets. The grey bit on a Venn diagram.
https://www.youtube.com/watch?v=DKBsCy1ZUg0