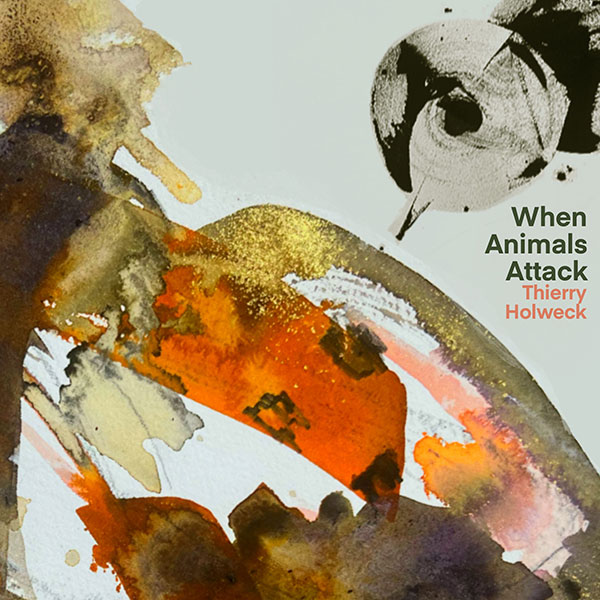 When Animals Attack is the new album by Theirry Holweck
https://thierryholweck.bandcamp.com/album/when-animals-attack
Thierry Holweck, veteran of the French music scene, releases his third album on Ombrelle Concrète – When Animals Attack on 26th May, 2023.
Thierry's recent solo works have seen him explore the possibilities of modular synthesis combining live, outdoor recordings with studio-based pieces; and this album may be his most accomplished.
When Animals Attack opens with the title track with its simple sequenced melodies which warp and twist into a combination of glitches.
Antic is another sparse arrangement. Woodblocks and plucked string tones combine with gentle sonic crunches and sampled sounds which recall Peter Gabriel's early experiments with the Fairlight CMI.
Monkey Tree begins with an emulation of a Himalayan singing bowl before a bass with a 1970s analogue vibe contrasts.
The insistent pizzicato notes that begin Let The Children Play give way to a gentle melancholy flute like melody. Intermittent percussive abrasions interrupt before insistent morse code tones play out.
Polar Bear starts with a slow deliberate bassline as analogue crackles alternate left and right. Disturbing distant wails reminiscent of a 1950s sci-fi b-movie soundtrack break the surface as double time arpeggios play the track out.
Down by the river has a warm bass line combined with the sound of a tongue drum. World music hints of digeridoo and pipes make this the most layered track on the album.
Slow oscillating saws start Fragments before high pitch synth lines scurry past. Tension builds and subsides into low frequency pulses …. then silence, then the return of insistent sonics chase to the end.
At a time when most music is characterised by densely layered arrangements, When Animals Attack cuts a refreshing and distinct figure. Each track is spare and deliberate. Space and sparseness lead the listener to focus on individual tones and instruments.
Thierry takes the glitch era electronics of the early 2000's and smooths them into a more melodic form whilst retaining bite and attack at unexpected moments. The crispness and precision of this album calls to mind the sparser tracks on the debut of German Kosmische supergroup Harmonia; and Thierry's upcoming live dates present an irresistible opportunity to hear his music in a live setting.
When Animals Attack is available as a Limited Edition CD & Download.