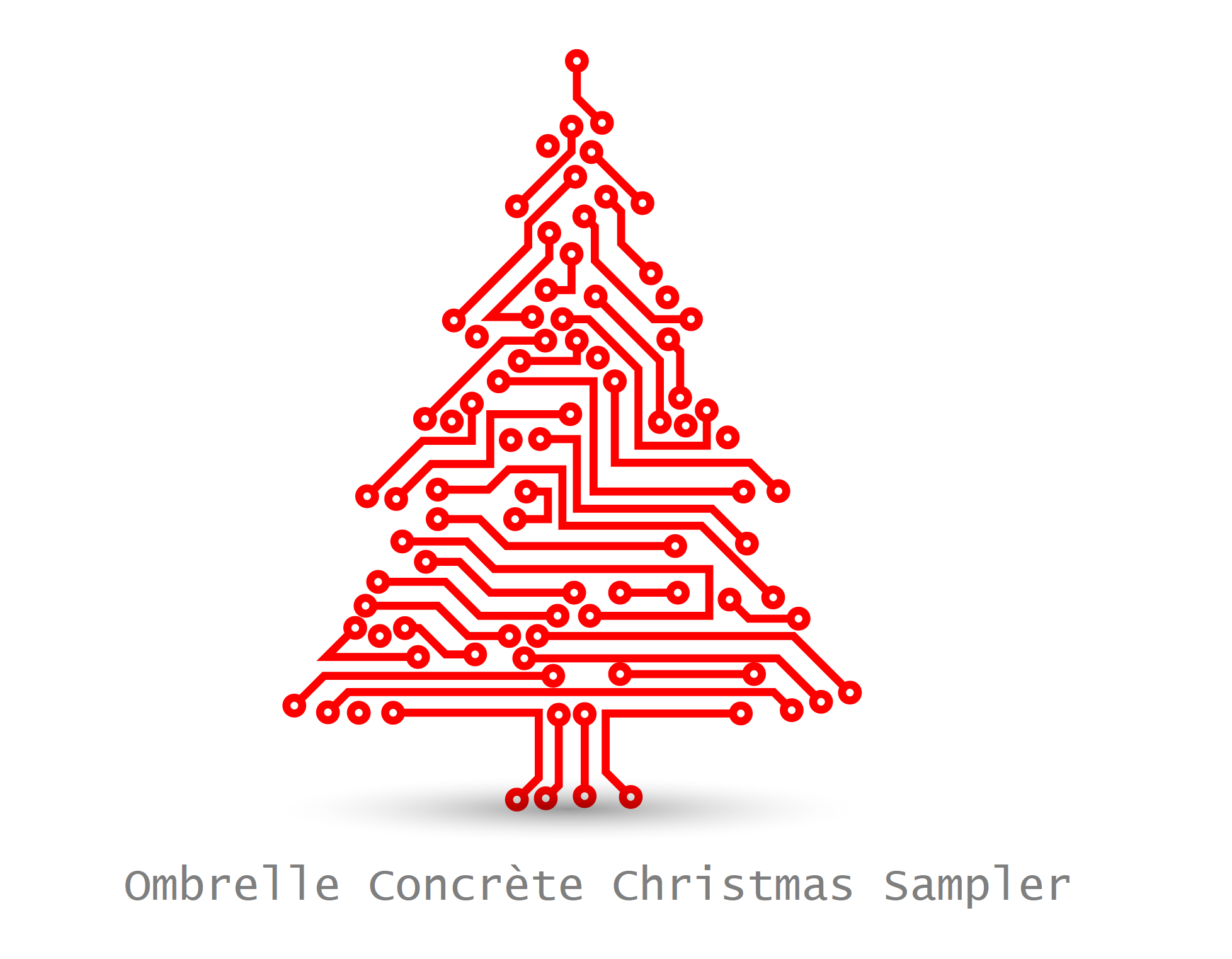 From self-isolation and social distancing bubbles, Ombrelle Concrète presents 11 songs from a gaggle of disparate artists to bring you "A Christmas Sampler" to welcome in the 2020 festive season of a truly annus horribilis.
Alongside NHS and keyworkers, many charities have continued to provide a most valued service throughout 2020 to some of the most vulnerable members of society.  Many have experienced bigger issues or worse demons during COVID-19 and enforced lockdowns.
Ombrelle Concrète will donate 100% of all digital download & CD sales to The Samaritans until the end of 2020. Please give generously & continue to support those supporting others.
the closer we are to dying
the closer we are to dying is the creative project of Terry Lane. The music falls somewhere between the cracks of drifting, angelic hypnotic ambience and darkly unhinged forces cutting through with intimidating and nightmarish tales of horror.
Clive Smedley (The Bleak Industrialists, Rekkliner) played piano on Ghost of Christmas Past. While Rob Shepherd (Rastko, The Singing Loins) played accordion and Jack Hayter (Hefner, Papernut Cambridge) played violin and lap steel guitar on Winter Wonderland.
Terry lives in Reculver, on the Kent Coast. He continues to self-isolate as much as possible.
AkA
Based in Porto, Portugal, the AkA electronic music project was incepted in the early 1990's by Henri Sizaret.
At first very techno-pop, the AkA style has progressively mutated towards pure digitalia and stark rhythms using the computer as a core composition tool. The result will sound to some as a "furious Kraftwerk" or according to DSO Audio, "a Tsunami of 0's and 1's" with "a witty sense of humour".
AkA will appeal to those who enjoy DADAIST poetry and are happy to be side-tracked by visual rabbit holes and audio research.
Whthppnsfpshthtbttn?
Whthppnsfpshthtbttn? is Roy Smith and Rich Clark. They occasionally perform their own blend of reverberating, electronic repetition, and harmonic nonsense masquerading improvisation to intimate groups in interesting surroundings such as churches, coffee houses and light vessel ships.
Following no rules, no paths, and no boundaries. This is electronic experimentation doodling in its most simplistic and encapsulating organic form.
Whthppnsfpshthtbttn? live and record in Rochester, UK.
DRH
Darryl Ryan Hartley is a multi-instrumentalist based in Rochester, UK. Fuelled on a diet of Bowie, The Beatles, and The Kinks; and inspired by Eluvium, A Winged Victory for the Sullen, Clint Mansell and Brian Eno, he has set about home recording.
This exploration of a particular musical genre is a work in progress, and he hopes to fine tune his recordings more and more the further he dives into this world. Whilst creating, he likes to envisage a narrative that plays alongside the music to create an atmosphere that will hopefully conjure a bigger story in the listener's mind.
Darryl also plays bass guitar in the Medway-based instrumental combo, The Senior Service.
Geoff Pinckney
Geoff Pinckney is a full-time electronic music songwriter and producer based in Nottingham, UK. His work spans three decades. He keeps himself busy with several projects and collaborations, including Democratize with John Costello, Muzik Orphans and Resident 24 with Gary Cantini.
Geoff also releases solo work as My Mercurial Drive.
Mothlight
Mothlight is an experimental music project by Tracy Affleck – a musician and sound artist based in Chatham, UK.  She uses dark layered ambient noise, digital sound bites and unusual vocal melismas to produce a unique bricolage of mesmerising sound.
The Bleak Industrialists
Clive Smedley has been producing thematic electronic music for several decades – from the early days of sound-on-sound with two tape machines and a couple of microphones, to four track tape and then digital. Working as The Bleak Industrialists since 2017, he is now creating pieces with a rediscovered freedom and clarity through jazz, neo-classical and contemporary electronica horizons.
swilly
swilly presents spasms of rhythmic soundscapes and tape loops interspersed with ranting, primitive guitar wrangling and experimental mumbling.
Sleaford Mods, The Fall and John Otway are invited to a festive episode of Come Dine With Me.
swilly is Simon Williams.  He is based in Rochester.
AnkalTag
AnkalTag is the experimental electronica project of Andrew Kesbey – better known for his work as sourmilk. AnkalTag produce textures and rhythms from sampled, manipulated waveforms.
Andrew lives and works in London.
Tamam Shud
Tamam Shud is a new project from Nick Wood (Decontrol).  He lives in County Durham.
Nick spends his time listening to a myriad of music, cricket scores and watching Scottish Football. He loves The Skids.