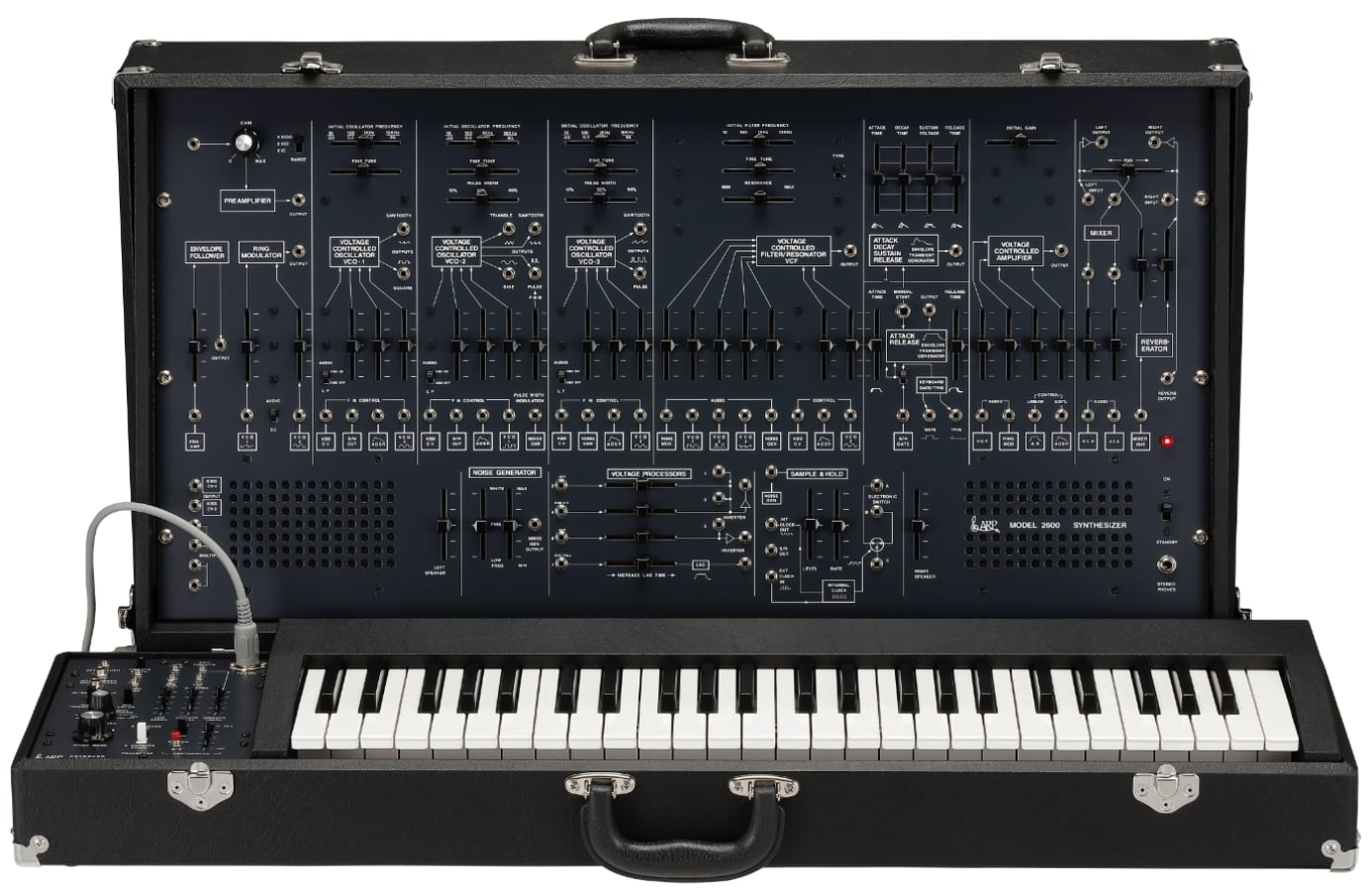 Throughout the music 1970s, the sounds of the ARP 2600 can heard in the rock music of The Who, the prog rock of Edgar Winter, jazz funk of Herbie Hancock, Stevie Wonder and countless others; as well as films such as Star Wars and Apocalypse Now.
The ARP 2600 is one of the most iconic and original synthesizers of all-time
ARP Instruments was founded by Alan Robert Pearlman in 1969. It produced a series of popular and commercially successful range of synthesizers throughout the 1970s before declaring bankruptcy in 1981. The Arp 2600 was a smaller, compact version of the behemoth ARP 2500.  Released in 1971, the ARP 2600 was an attempt to present a complete electronic music studio in a portable, self-contained unit. Now Korg has reissued and (subtly) expanded the synth for 2020, complete with all its original features and a few modern additions.
Following the re-birth of interest in analogue synthesizers, the cost of an original Arp 2600 has sky-rocketed out of reach for most people; and so, after five years in the making, the launch of the Korg ARP 2600 FS Semi Modular Analog Synthesizer has been greeted with great anticipation, enthusiasm and excitement.
The ARP 2600 is brought back to life in a single, one-time-only production run. This limited-edition release is a loving reproduction of the original ARP 2600, and includes a few welcome additions for the digital age such as USB and DIN-style MIDI connections, XLR audio outputs, plus the improved ARP 3620 Duophonic Keyboard with an added arpeggiator / sequencer.
The ARP 2600 reveals its modular nature by the unique assortment of valuable, esoteric, and individually patch-able modules it contains.
More than just a synthesizer, the ARP 2600 is a complete sound design studio
Even today, the ARP 2600 stands as a bridge between the individual elements of modular synthesis and the immediacy of a production / performance instrument.
Included are an ample supply of oscillators, envelopes, a filter and amplifier – the building blocks of analogue synthesis. But the ARP 2600 goes even further, with a spring reverb tank and even a pair of built in monitor speakers. Also present is much of the versatility of a vintage modular system, including a ring modulation, lag and voltage processors, an envelope follower, audio preamp, a clock-able switch, noise source, a sample & hold module, signal inverters, an auxiliary mixer, and even a set of parallel-wired/multi jacks.
The Korg ARP 2600 FS reproduces the sounds of these components at the circuit level. Under the supervision of David Friend, the co-founder of ARP Instruments, parts were carefully selected, and every detail was adjusted to replicate the original unit's distinctive synthesis.  It comes with three oscillators, noise generator, two flavours of low-pass filter, dual envelope generators, spring reverb and ring modulator, built-in speakers, Tolex-covered cabinet, detachable keyboard with arpeggiator and an additional LFO, MIDI note-on/off and pitch-bend transmittable and receivable over MIDI and USB.
"It's like seeing an old friend again after fifty years, and I can't wait to get my hands on one" – Edgar Winter
While faithful to the original design, the functionality of the 3620 Keyboard has been greatly enhanced for this limited ARP 2600 release. The 3620 Keyboard contains 49 full-size keys, aftertouch, portamento, and is also duophonic, allowing two keys to be played at once – Single or Multiple Triggering is available.
In addition, the duophonic keyboard can use an optional foot switch to lock the interval between any two notes, without retuning the oscillators during performance. Vibrato can be added via a dedicated circuit controlled by aftertouch, or by the onboard LFO (Low Frequency Oscillator), using any of three available waveforms. Most noticeable is the addition of a flexible Arpeggiator that allows a user-defined pattern to be manually sequenced and played back. Still present are the original Pitch Bend knob and the Two Octave Up / Two Octave Down Transpose switch. Connecting the keyboard to the main unit now uses a secure eight-pin din cable.
"A loving reissue of a synth legend, Korg's ARP 2600 FS gives modern electronic musicians the chance to experience a brand-new ARP 2600 with none of the quirks (or costs) of a vintage unit." – Music Radar Review
Though much more affordable than a vintage original, the Korg ARP 2600 FS will cost you around £3,500.  If you can afford it, what are you waiting for?